Epoxy Resin Furniture at ThunderWood Studio
ThunderWoodStudio - is a family business that produces exclusive epoxy resin furniture and one-of-a-kind handmade homeware. Having started as a small studio, our studio has expanded its horizons. With our warehouse we efficiently ship our finished furniture to customers across Europe and America. We've managed to come up with our own formulas turning regular materials such as epoxy and wood into real masterpieces bringing fresh natural vibes into any interior.
Meet our statement pieces!
Enjoy the laconic nature-inspired items for a fresh and striking home interior appeal.
Process
Each piece of furniture or decor in our handmade collection has a unique production process that involves a combination of various techniques of working with epoxy resin combined with exclusive wood. Each combination of wood and epoxy resin is always one-of-a-kind, hence no item in our collection looks exactly the same in terms of design. This is how we ensure our customers get non-generic and exclusive pieces that cannot be found elsewhere.
Expert opinion
Source the freshest home interior insights and ideas from our blog!
What is an Accent Table? An accent table is a small, functional piece of furniture, often gracing living rooms, bedrooms, hallways, and entryways. Unlike central pieces like dining or coffee...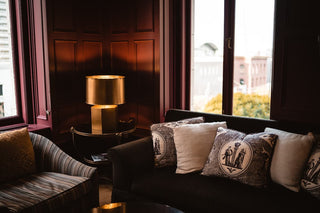 Welcome to a world where your small living room can boast a striking focal point that harmonizes and diversifies its interior! When considering a dining table for small living room,...
Our Studio
Our epoxy resin homeware production studio is a family business where we pour all our passion and effort into crafting each and every item we produce. We strongly believe in the power of aesthetical functionality we bring into every home with our epoxy rasing tables, decor, and homeware.  ThunderWoodStudio is more than just a business; it represents a convergence of rich woodworking traditions, modern design, and innovative exploration of both natural and synthetic materials, with the goal of reimagining the conventional notions of home decor and furniture.