ThunderWoodStudio is rooted in the belief of creating timeless epoxy resin furniture and homeware made to stand the test of time.
About the founder
Everything and everyone has their own story and I'm not an exception. My name is Oleksiy and my humble beginnings are rooted in my lifelong passion for woodwork and handmade that eventually evolved into a business and a lifestyle. 
What makes my endeavor different from any other commercial business is that I used to be a pure enthusiast learning many of the woodwork techniques on my own. Since my core subject (finances) is way far from creativity, the way I managed to start my own woodwork business is just fascinating! 
To be honest, I owe my success to several significant women in my life whom I consider to be the main source of my creativity and ideas. They've been constantly encouraging all of my creative ventures, hence once I found the right one. Everything started with a picture of a tree trunk adorned with a beautiful engraving that I decided to duplicate on my own. Experiments with epoxy resin followed with me sourcing various ideas from YouTube videos and a lot more…So here I am with my own epoxy resin formulas and my own vision of what these can be turned into.
Funny thing, back in the day I didn't know that epoxy raisin and wood bracelets, rings, phone covers, and lamps were just the beginning. My first successful sales encouraged me greatly not to stop. So I sharpened my skills and purchased better equipment dreaming of products that could really make a difference. 
When it comes to design, marine themes have always fascinated me. Imagine a foamy wave rushing onto the sandy shore. What if I can recreate this in wood and epoxy? And it totally worked! The great thing about working with wood and epoxy raisin is that neither the wave contours nor their color can be repeated in subsequent works. Like the unique pattern of sawn wood, each work turns out to be unique and one-of-a-kind. 
I thoroughly work on the design of each  product and discuss it with the client, looking for the best solution that will meet their requirements and aesthetics. And that is why there are no limits to versatility. Every time I get down to work, it's always about a brand-new experience, new solutions, and new discoveries. 
Hope, my love for woodwork will feel through any item you might choose for your home. Thank you for your loyalty and constant choice of our products, We really appreciate it.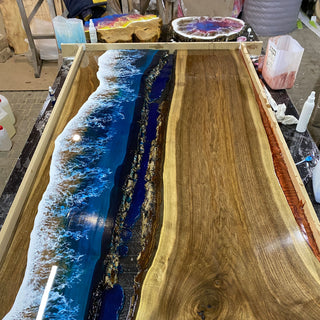 Our Locations
Come meet us in person! ThunderWoodStudio is a place where creativity meets functionality, so don´t hesitate to drop by and meet like-minded interior design enthusiasts and woodwork fans. Willing to find out more about our production processes or take a look at our newest collections? You are always welcome!
Contact
Darya +1 845 605 0909
E-mail: Thunderwood.studio@gmail.com
Passionate about quality furniture, decor, and elaborate woodwork? Сheck out our new arrivals!  Hope, any of these will serve you for a lifetime. Enjoy!